The famous opening lines of Chaucer's Canterbury Tales, 'Aprille with his shoures soote' (April with its sweet showers), stated that summer was the time when people longed to set off on their travels. Summer travel has existed for over 500 years, whether as pilgrimages that gave birth to the concept of 'holidays' (from 'Holy Days') or as sightseeing. We all know Arab travellers + Luxury: A match made in paradise. The GCC market comprising Saudi Arabia, the UAE, Bahrain, Qatar, Kuwait, and Oman, can prove to be an incredibly lucrative source market for global tourism is beyond doubt. 
And for marketers in the GCC, there's no better time to ride the wave of this timeless desire, with a staggering projected increase of 13.8% increase in outbound tourism from GCC countries. 

Hit the Bull's Eye with Targeted Intended Travel Buyer Insights
It is important for marketers in GCC countries to note that over 50%  of affluent Arab tourists have sought more meaningful travel experiences since the pandemic, and more than 25% are willing to pay extra for secluded villas and chalets as opposed to hotels in the middle of the bustling cities. The Middle East has developed an unparalleled international reputation for luxury tourism, with the potential for higher conversion by marketers as consumers across the region are placing a high value on bespoke, memorable, and environmentally responsible experiences.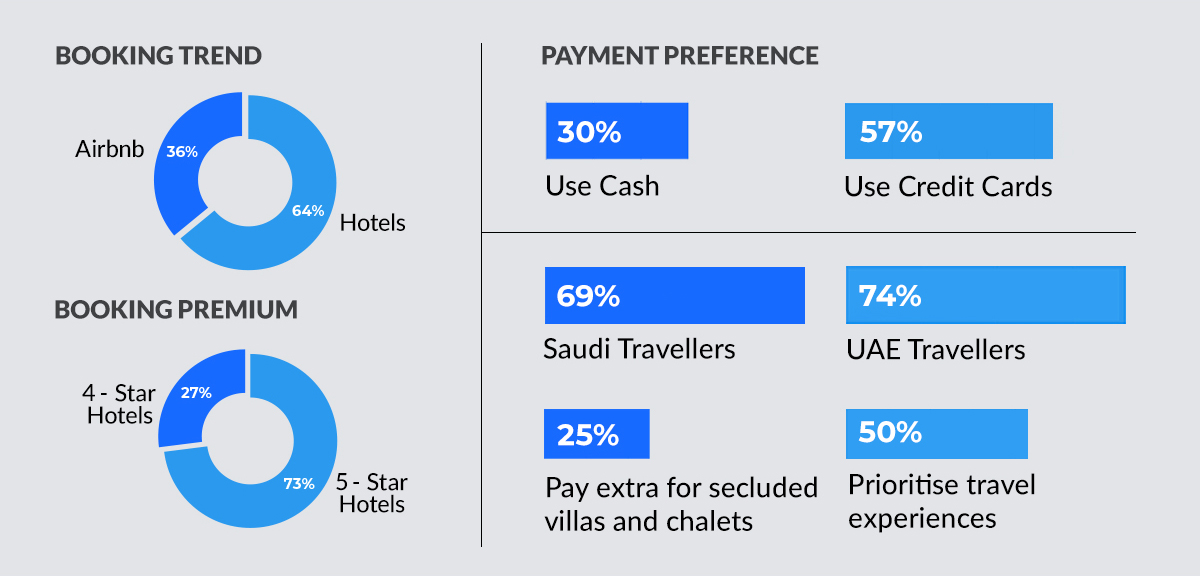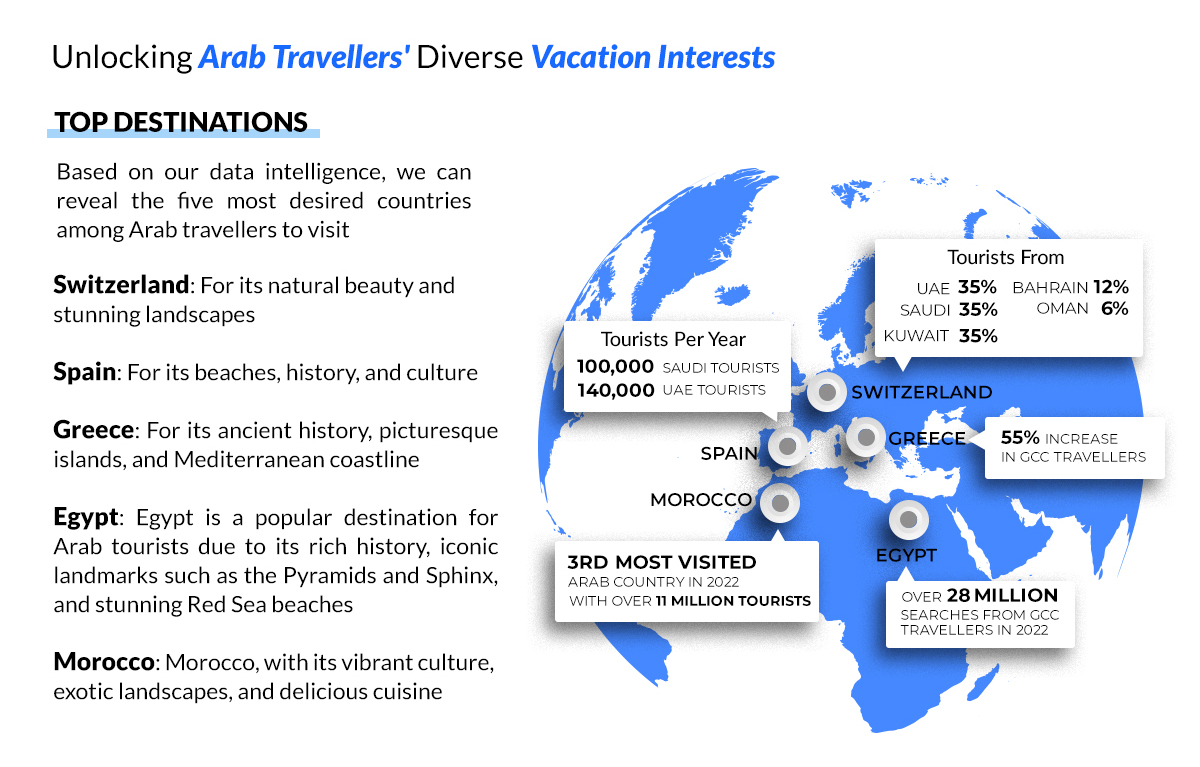 Additionally, we have gathered valuable insights regarding the proportion of Arab travellers from various countries, are as follows:

When it comes to vacation interests, we found that a mouth-watering 23% of Arab travellers are passionate foodies, while 10% are passionate about sightseeing and taking in famous landmarks. For the adventurous souls, 6% crave the excitement of hiking in Switzerland, while a staggering 33% can't resist a shopping mall.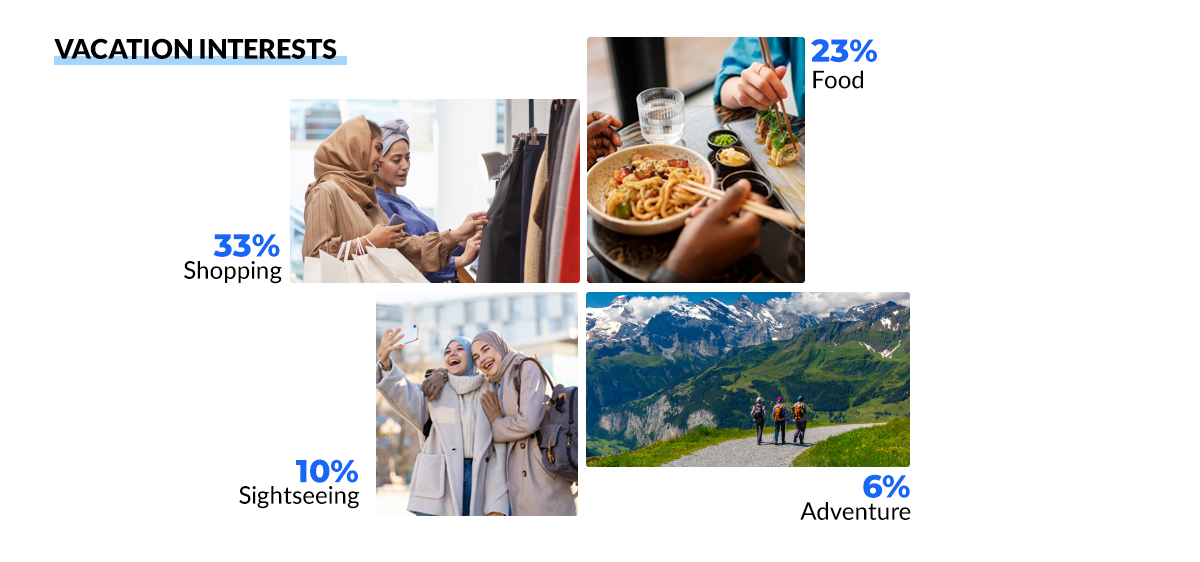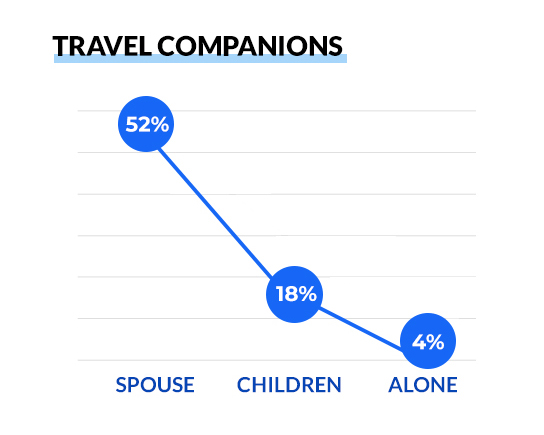 The data clearly shows that Arab travellers have a wide range of vacation interests, and marketers catering to these preferences can make all the difference in creating a memorable travel experience. From exploring new flavors and cuisines to sightseeing famous landmarks, from immersing in local culture to hiking through scenic mountains, understanding these diverse interests can help the travel industry to better cater to the unique needs of the vacationers.
 Get Inside the Mind of Your Target Market This Summer
Understanding travel behavior

:

MEmob+'s proprietary audience and location intelligence can assist you to define your custom audience segment of mobile users based on their Psychographic, Technographic, and Geographic data, understanding their intent to travel by analyzing their travel app usage as well as users engaging with keywords related to their key destinations and historical travel patterns, especially during summer.

Personalized messaging

:

 It is essential to effectively connect with your desired audience by delivering appropriate messages at the opportune moment. By leveraging data analytics, present engaging and visually appealing content tailored for each audience group to grab their attention and stimulate their curiosity, ultimately resulting in greater conversion rates.

Data-Driven audience targeting:

Save your marketing budgets and maximize your unique reach with minimal duplication by reaching intended buyer audiences on their preferred channels through omni-channel targeting including META, Snapchat, and Display (MWeb and In-Apps).  MEmob+'s DSP enables your brand to control the ad type and frequency to help you reach your unique campaign objectives. Grab your audience's attention span in a cluttered digital marketing space.

Measure and Optimize:

Get in-depth reports on the audience targeted across these channels, including demographic information like age, gender, nationality, location of work and home, psychographics, technographic, interests, behavior, and more.  MEmob+'s ai-powered tec

hnology helps you to measure the effectiveness of your advertising campaigns and thus optimize them better leading to higher viewability, and conversions. 
With MEmob+ Data Intelligence, you can easily ascertain exactly what your consumers need to see when to see them, and how you can be a part of their perfect holiday while increasing ROAS and reducing ad spending because as Edwards Deming said, "In God we trust. All others must bring data".