The Ask:
Bel wanted to make sure its Kiri cheese was the star ingredient in Ramadan dishes in 2020, inspiring GCC women who shop and cook with its recipes. Using its deep knowledge of content preferences and mothers' behaviours during the Holy Month, MEmob+ conceived a clever creative idea and a smart targeting approach to distribute the recipes efficiently.
The Answer:
MEmob+ first used its geographic (location) intelligence and its technographic data in its database of 9+ billion UDIDs to identify females with children and who shop and cook. Location data from ALLPINGS pointed to female users detected in supermarkets/groceries, nurseries/schools/play areas and relevant retail stores. Technographic data was used to confirm the 4+ household size with Graph Identity technology and interest in shopping, cooking and children's education with frequency of usage of relevant apps on their devices. This gave a total audience of 31 million 25+ women in the GCC alone.
After analysing the various personas, their interests and behaviours, MEmob+ created and deployed a rich media campaign of mobile and in-app ads offering 30 days' worth of recipes using Kiri. It was delivered to relevant mobile users in the GCC and the Levant. Upon clicking on the banner, the 30 recipes were automatically saved in their calendar app, along with daily reminders of the day's recipe at noon. Each calendar event linked to the recipe page, featuring a shopping list and instructions, on the Kiri site.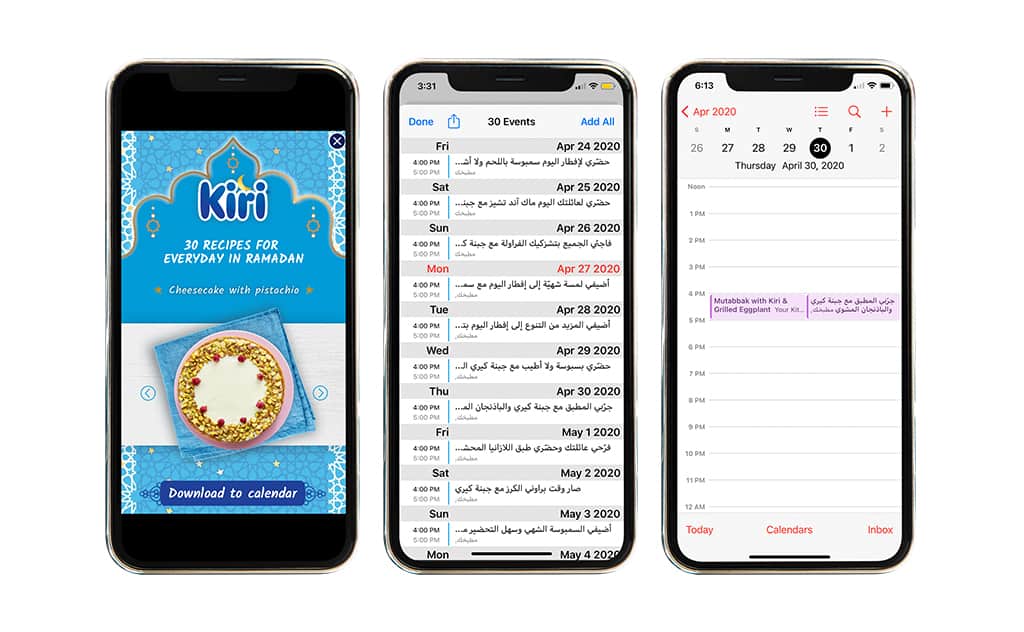 Millions of impressions were served, using First-Party Data, Custom-Built and Pre-Defined segments. Users were also targeted on a contextual basis using a list of keywords.
The Results:
The campaign exceeded goals and benchmarks. First, in terms of impressions and unique reach, achieving 28%, rather than the planned 21%, of the target universe with the same budget. Second in terms of engagement, as users enthusiastically clicked on the ads (3.07% CTR, 614% above benchmark) and downloaded the calendar (24.34% conversion rate), largely from the first impression. On average, each calendar download led to three recipe views, the most popular being Kunafe Cheesecake Balls and Creamy Chicken and Rice Gratin.

This is the result of the right message to the right people, in the right place at the right time. The manner in which it was delivered, i.e. the convenience of 30 recipes in the users' calendar with daily reminders with a single click, was the secret ingredient in this delicious recipe.