Qatar's e-commerce is thriving due to its young and tech-savvy population, as well as a sizable expatriate community that is no stranger to online shopping. Qatar's retail industry has grown significantly in recent years, owing to the thriving e-commerce market. With lightning-fast internet speeds and 99% of the population living in cities, it's no surprise that Qatar is the world leader in internet adoption. The rise of e-commerce, according to Hakoomi, the official Qatar e-governance portal, has been a key driver behind this trend. The growing demand for online shopping among consumers has led many retailers to recognize the potential of e-commerce and are investing actively with the objective of reaching more consumers and scaling their business.

The Digital Frontier: How Qatar's Internet Penetration is Reshaping Retail
In 2023, revenue in the eCommerce market in Qatar is projected to reach US$3.82bn with a CAGR (Compound Annual Growth Rate) of 10.46% between 2023-2027, which translates to US$5.68bn by 2027.

 Qatar's eCommerce Market Set to Soar: Projected 74% Increase in ARPU (Average Revenue Per User) by 2027
The ARPU in 2023 is $1700, and it is expected to rise to $2300 by 2027, a 74% increase in four years. The future of e-commerce in Qatar is clear, with a rising trend of using internet-backed technology to meet consumer demands.

If we look at the increase in the percentage of users by sector, we notice that there is an increase of about 20% from 2023 to 2027 across all sectors. The rise across all sectors is shown: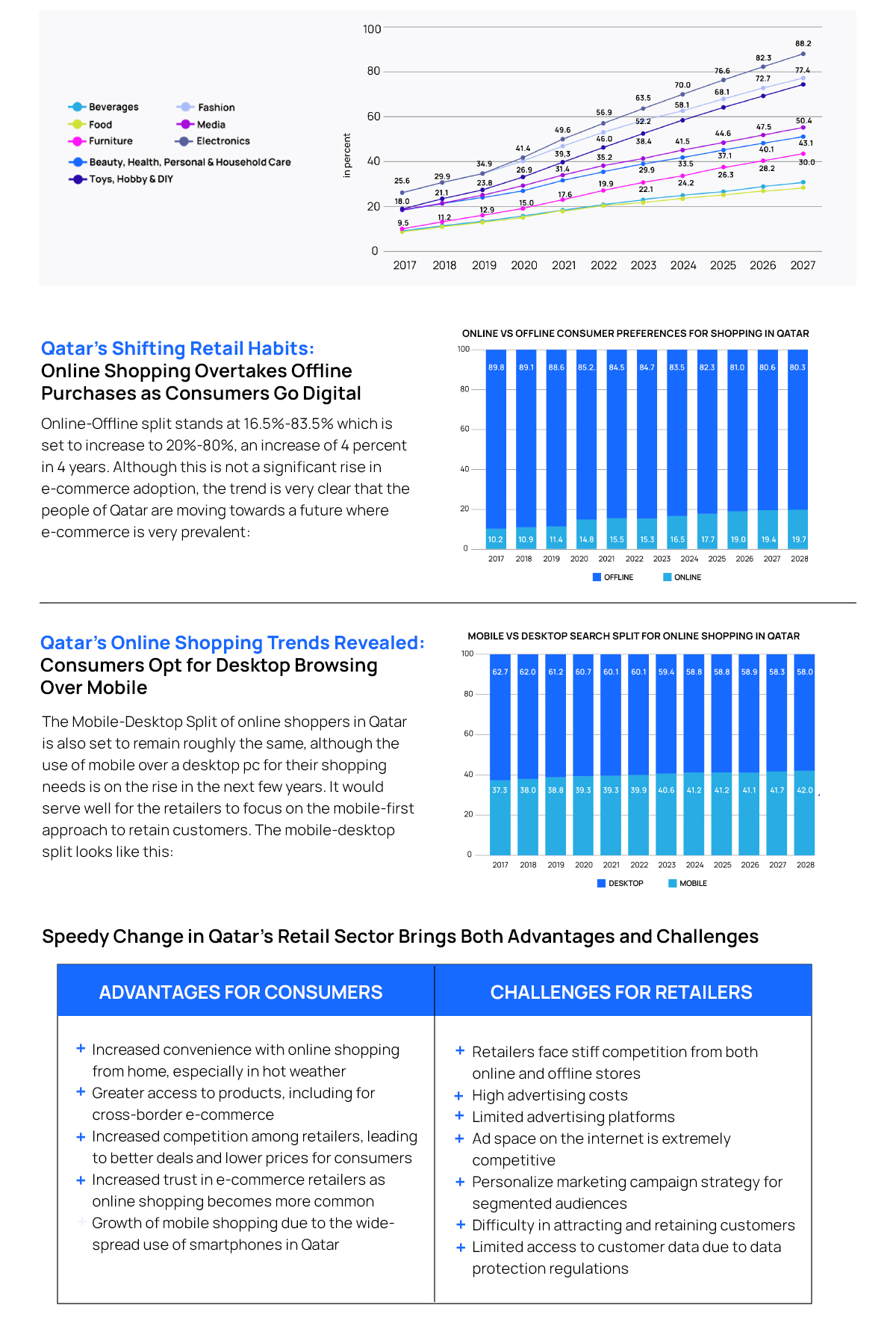 Winning the Retail Game in Qatar: Top 3 Solutions to Overcome Challenges and Succeed in the E-commerce Era
Omni-channel strategy
Retailers in Qatar also need to focus on providing a personalized customer experience to retain customers. This can be achieved by using data and analytics like our proprietary software "MEmob+ Omnichannel" which helps reach audiences across multiple channels through data-driven targeting (which includes social media, and display ads) and treating them as 1 single entity to eliminate cross-channel duplication of advertisements. Since the user is not bombarded with similar advertisements across channels, the marketer can uniquely reach targeted customers by minimizing ad-spend. This can also help marketers in gaining retrospective insights into the effectiveness of their ad campaigns.
     2. Driving footfalls in-store and purchased online
To retain customers in Qatar, retailers need to adopt an omnichannel strategy that integrates their online and offline channels. This means providing a seamless shopping experience across all channels, including online, mobile, and in-store, by using MEmob+'s proprietary "Location Mobility", which helps acquire real-time and historical location data based on users' mobility and dwell time.
     3. Tailored immersive ads to capture the audience's attention
The initial point of contact with your target audience is through your creative messaging. Maintaining a strong brand recall score and differentiating your brand from competitors is essential. Rich media ads enhance customer interactions and help you create dynamic experiences through multiple applications such as-
Gamification 

Shopability 

Interactive Demos 

Augmented Reality (AR)
Grab the attention of your consumers before they divert to your competitors!