Digital marketing can very simply be defined as "Achieving marketing objectives through applying digital media, data, and technology." It is the practice of promoting products or services using various online channels and platforms, such as websites, social media, email, and search engines, to reach and engage with a targeted audience. It encompasses strategies and techniques aimed at increasing brand awareness, driving website traffic, generating leads, and ultimately, achieving business goals through digital means. 
Targeted Audience: Websites track users through third-party cookies by placing tracking codes or 'cookies' as they are called from external domains on their web pages. These cookies contain unique identifiers that allow external domains to monitor users' online activities and gather information for targeted advertising and analytics purposes. 
This is how the cookie crumbles
Third-party cookies serve as a common method employed by websites to track users' online behavior. A third-party cookie is a tracking cookie that is set by a website other than the one the user is currently visiting, typically used for advertising and analytics purposes.
Marketers use cookies to determine what their audience's interests are based on browsing activity, purchases, and preferences. It provides powerful information useful in enhancing online marketing. Online advertising is the most common use of third-party cookies. It uses the data to create user profiles and then present personalized ads.
With most firms phasing away third-party cookies by 2024, mostly to adhere to privacy requirements of various government entities like the GDPR or the CCPA, third-party cookies are really becoming obsolete. The removal of third-party cookies will lead to a significant transformation in the advertising and marketing industry, necessitating adherence to privacy-focused tracking through zero-party and first-party data for competitive advantage.
Zero-party data, also referred to as "intentional" data, is voluntarily shared by customers with organizations through various channels like website polls, surveys, membership applications, and forms. Customers willingly provide their contact details, demographics, preferences, or pain points in exchange for rewards. Marketers and brands leverage zero-party data to gain precise insights that enable them to customize campaigns based on individual preferences, fostering a symbiotic relationship, and establishing trust between organizations and their customers.
First-party data is customer information collected directly by organizations from their own sources, focusing on customer behavior, interactions with websites, clicks, time spent, and downloads. It provides valuable insights into customer purchase decisions and is collected through websites, mobile apps, social media, emails, or SMS. Although accurate and reliable, analyzing first-party data requires effort and doesn't necessarily foster trust between consumers and marketers. In contrast, zero-party data minimizes the need for analysis and has gained importance with the rise of the Metaverse in marketing.
Aligning zero-party data strategy with brand goals is crucial as it allows brands to harness the customer's willingness to share data in exchange for personalized experiences. By implementing a strong data collection strategy, brands can eliminate guesswork and tailor offerings to meet customer preferences while respecting privacy concerns. Creative approaches can be employed to collect data without burdening customers, ensuring their active participation, and making the process engaging and entertaining. This approach solves the privacy and personalization paradox, benefiting both customers and brands.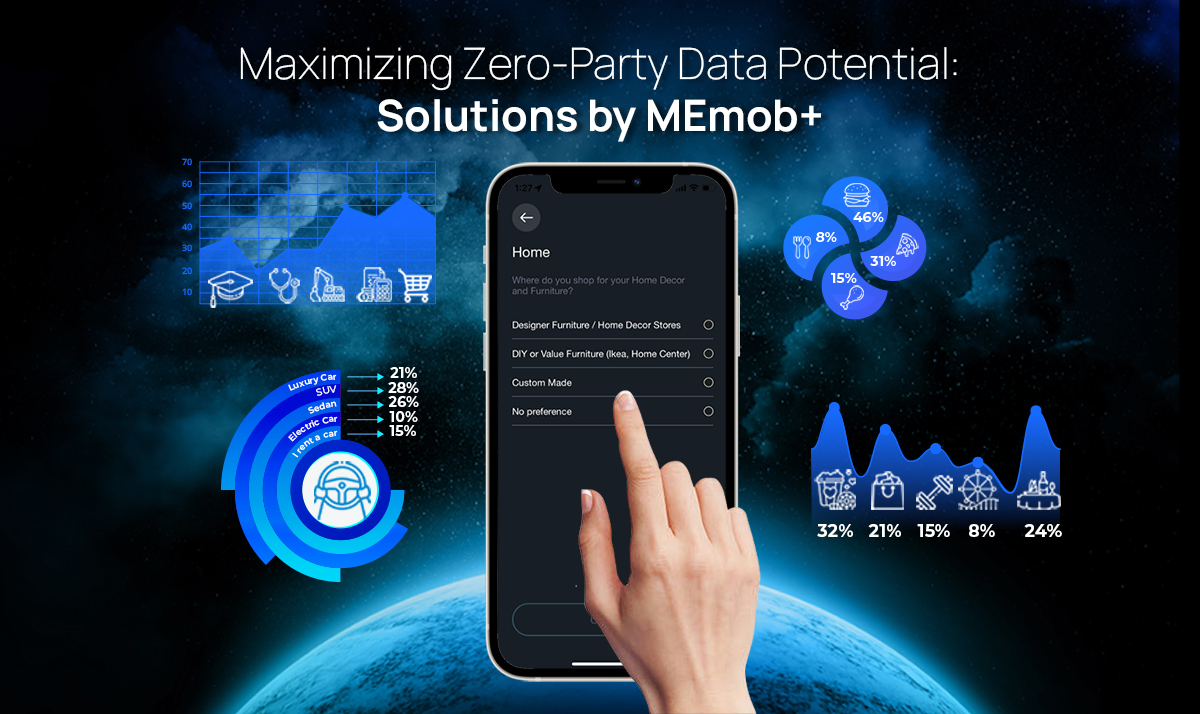 "Allpings", MEmob+'s proprietary location technology that maps people's location visitations and mobility across the globe with an updated algorithm for predictive location analysis and an infusion of premium First- & Zero-party data, we are able to provide more valuable insights than ever before.
MEmob+ has always been aware of the importance of collecting verified and accurate data for its clients – ultimately giving birth to the idea of introducing the region's first decentralized crypto wallet "Wallace", the native crypto wallet and rewarding system, presents an exceptional opportunity for marketers to establish direct communication channels with consumers.  By leveraging this innovative platform, advertisers can engage customers through interactive questionnaires, enabling them to earn monetary rewards (GEO Tokens) for their valuable insights. Wallace empowers marketers to collect valuable data and gain meaningful consumer insights, fostering deeper connections and driving targeted advertising campaigns.