What is Geohash?
Geohash is a public-domain Geocoding system. It is a simple way to encode latitudes and longitudes into short alphanumeric strings. The user could be anywhere in that area, they are not necessarily in the center of the area. This is really useful as latitude and longitude only represent a single point on a map whereas a geohash describes a fixed area.
How does it work?
Geohash is a hierarchical spatial index. This means that to represent a point, the world is recursively divided into smaller and smaller grids, with each additional bit, until the desired precision is attained. The precision factor determines the size of the cell. For instance, a precision factor of one creates a cell 5,000km high and 5,000km wide, a precision factor of five creates a cell ≤ 4.89km high X 4.89km wide, and a precision factor of nine creates a cell 4.77m high and 4.77m wide. 
Why is Geohash at Level 9 (a very small area) better?
G

eohash allows for significantly faster geofencing than conventional methods (Like geotargeting)– typically minutes instead of hours or even days. 

As the accuracy of reaching the target audience is significantly higher, the right audience can be targeted for the right product at the right time and location. 

As a result, marketing efforts become more efficient and effective, ensuring that promotional activities reach their intended recipients with unparalleled accuracy and timeliness.
Wider audience vs higher engagement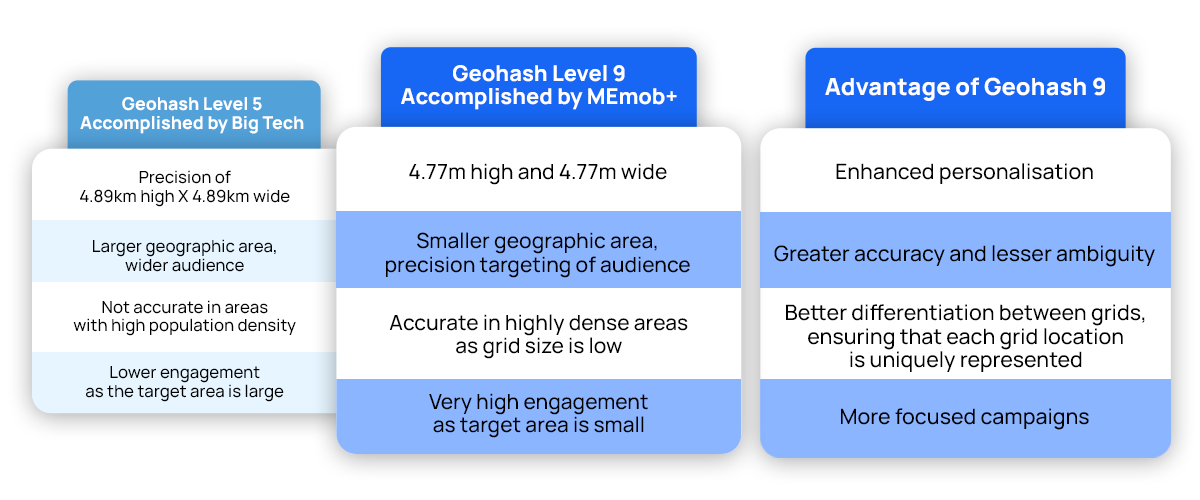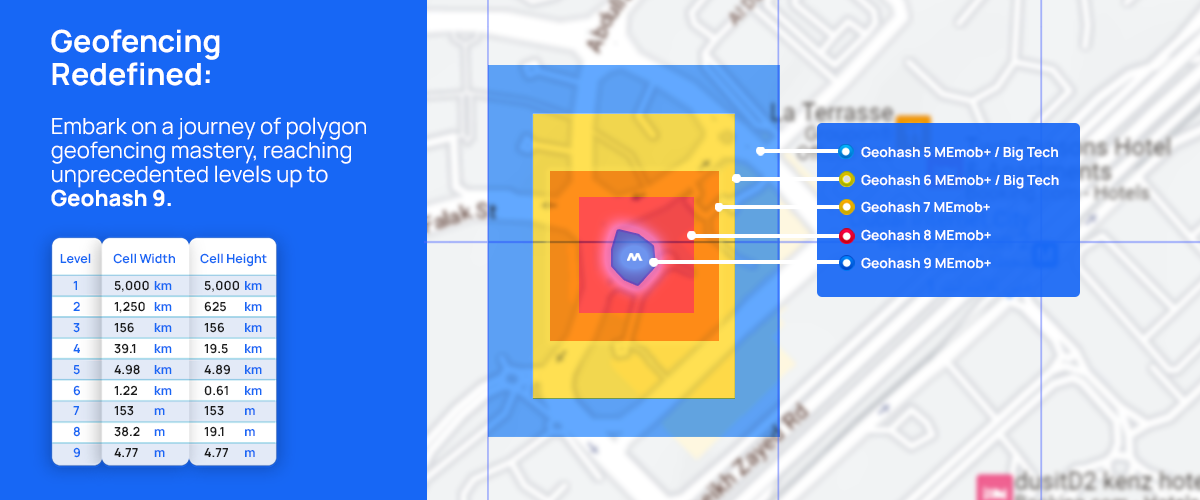 Our Success Stories:
Bulgari: Impact of digital ads on offline stores
In a campaign for Bulgari, we used

MEmob+'s 'Stretch'

, which is our proprietary solution to measure footfall attribution and assess audience duplication across channels, to effectively measure the impact of the digital ads on their offline stores. 

The solution lies in implementing a stretch tracker on their social media and other campaigns. This tracker enables the measurement of their campaigns. MEMob+ proposed the implementation of geo-fencing around the stores that are of interest to Bulgari. By cross matching the footfall in these stores with the users captured by the stretch tracker from their campaigns, Bulgari could gain valuable insights into the direct impact of their digital ads on driving customers to their physical stores. 

This solution allowed for a comprehensive evaluation of campaign effectiveness and enabled Bulgari to make data-driven decisions for optimizing their marketing strategies.
Chuck E Cheese: Increasing Footfall
To attract people in KSA to Chuck E Cheese during the lockdown, we had the difficult problem of attracting visitors to the stores from different economic and geographic backgrounds.

We utilised appographic and location data using 'AllPings' to identify individuals from different groups by creating tailor-made offers for people from different backgrounds. We were able to identify individuals living in the vicinity and increase awareness about the existing offers.

We could do this by monitoring people's location visitations and mobility and identifying specific audiences amongst thousands of others using our proprietary algorithm.
McDonald's Order Ahead: Driving Footfall & Customer Loyalty
For the UAE consumer, time is money. The on-the-go persona audiences have hectic lifestyles and are constantly seeking the most convenient ways to facilitate their lives. For McDonald's, that meant launching the "Order Ahead" feature to give back some of the lost time. 

Our strategy hinged on harnessing the power of our "Allpings" location intelligence technology, encompassing data from Bluetooth, WIFI, apps, browsers, and the hardware within our customers' smartphones. This robust technology enabled us to pinpoint and categorize consumers accurately, allowing us to craft precise and personalized messages tailored to their preferences.
We capitalized on real-time location-based insights to comprehend their visiting patterns across our 180 outlets and the time required to convert them into customers. The results were outstanding, with a 3X increase in foot traffic

from store to media vs the previous month. 
In conclusion, Geohash is a powerful geocoding system that simplifies the representation of geographical coordinates, offering precision, anonymity, and flexibility in location-based marketing decisions. Geohash Level 9 provides unparalleled accuracy in smaller, highly dense geographic areas. This precision has proven successful in real-world applications, such as Bulgari's footfall attribution analysis and The WebSummit's targeted outreach efforts.
Click here to unlock the power of precise location-based marketing with Geohash today and reach your audience like never before!