The Saudi Arabian Food Services Market is anticipated to reach USD 26.54 billion by 2026, growing at a CAGR of 7.68% during the forecast period. The Quick Service Restaurant (QSR) industry in Saudi Arabia is experiencing a dynamic and competitive landscape. The present state of the Quick Service Restaurant (QSR) industry in the country highlights the influence of consumer behaviour on the sector. 
The market is expected to increase as a result of rising disposable income, a booming tourism sector, rising urbanisation, and the quick spread of meal delivery services in Saudi Arabia. The Saudi Arabian Quick Services Restaurant Market is primarily driven by a large base of young adults and the working population, as well as social and cultural changes. Additionally, the market for online meal delivery services has been expanding exponentially because of technology developments that made it easier to create an online platform and improve user comfort.
Marketresearch.com reports that in the Saudi Arabia foodservice profit sector, Full-Service Restaurants (FSR) emerged as the leading channel in terms of revenue, accounting for 45% of the total sector revenue in 2020. FSR's dominant market share can be attributed to its extensive transaction volume and a significantly larger number of outlets compared to other channels. Following closely, Quick-Service Restaurants (QSR) held the second-largest market share at 28.5%.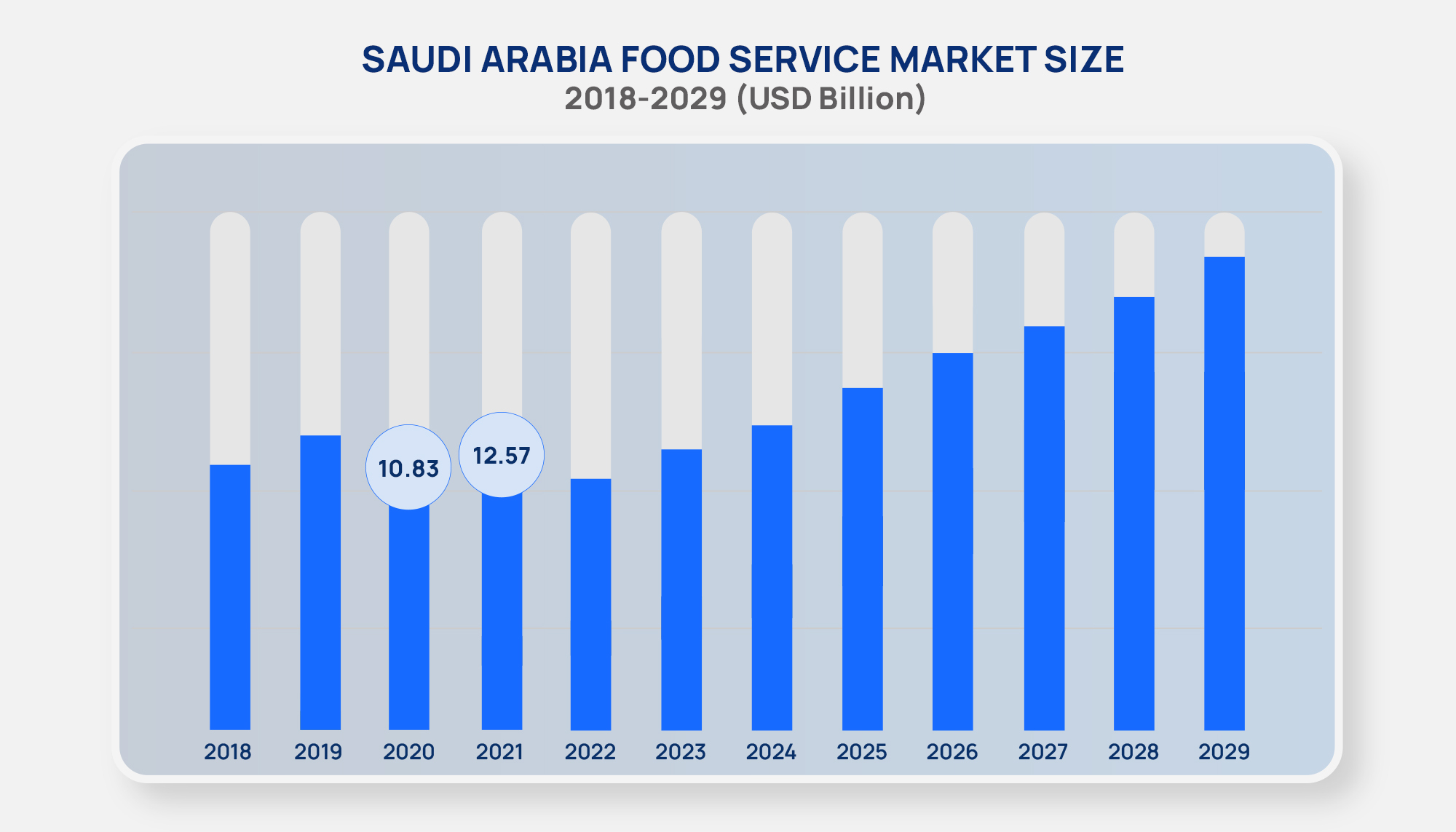 Saudi Arabia's QSR Market Hits Turbo Mode
A thriving consumer market and changing dining preferences are driving the QSR industry's outstanding revenue growth in Saudi Arabia. More people are seeking easy dining options as the economy of the nation continues to rise steadily. The QSR market serves a wide range of customers, including busy professionals, families, and students, as a young population is driving consumption trends. In this sector, decision-makers frequently include a combination of working people, parents, and young adults.
The demand for quick service restaurants has increased due to a number of factors, including rising price consciousness and value-seeking consumer behaviour. The extensive use of the internet and social media, which has exposed a significant number of Saudis to Western cuisine and culture, is another factor in this market's explosive rise. International chains including Applebee's, Outback Steakhouse, Chili's, and TGI Fridays are among the growing number of cafes in Saudi Arabia.
Challenges of QSR in Saudi Arabia:
High Competition, Low Visibility

: Fierce competition among QSR brands in Saudi Arabia makes it difficult to stand out and gain visibility in the market. The abundance of options leads to a fragmented customer base, making it challenging for brands to attract and retain customers.

Footfalls In-Store

: While online ordering and delivery services are gaining popularity, driving footfall in physical stores remains crucial for QSRs to generate revenue. 

Target Audiences:

Identifying and reaching the right target audience poses a challenge for QSRs in Saudi Arabia. Precise audience segmentation and effective targeting strategies are crucial to attract and engage the desired customer base.

Online Conversions

: The shift towards online platforms demands efficient online conversion strategies. Ensuring a user-friendly website, seamless ordering process and reliable delivery services are crucial for converting online visitors into loyal customers.

Lack of Consumer Insights:

Limited access to data-driven consumer insights can hinder QSRs' ability to understand customer preferences, demands, and behavior. 
Dominate the QSR Market: MEmob+'s ROI Boosting Solutions Unleashed!
Leveraging the power of data-driven marketing solutions from MEmob+, marketers can anticipate impressive results across various key performance indicators. These include a significant uplift in footfalls, driving increased customer visits to physical stores. By implementing targeted campaigns and optimizing marketing strategies, MEmob+ enables marketers to achieve a substantial uplift in return on investment (ROI), maximizing profitability. Some of the solutions we offer are:
Location Intelligence

: Use meaningful insights from people's mobility to improve the brand's marketing strategy. Marketers can use AllPings to harness the power of Location Intelligence to craft personalized messages for media campaigns and grow their customer base.

AllPings tracks and monitors people's visitation trends to help you build well-rounded online and offline marketing strategies that would boost your business.

Unichannel Targeting & Attribution

: MEmob+'s Unichannel solution allows you to save your marketing budget and maximize your unique reach by targeting your audience across all digital channels, including all social platforms without duplication.
With a focus on enhancing viewability, MEmob+ ensures that brands gain increased visibility and exposure to their target audience. Marketers can also expect a remarkable uplift in app installs, driving greater downloads and engagement for their mobile applications. 
MEmob+ strategies effectively attract new users, expanding the customer base and fostering growth. Additionally, by utilizing personalized marketing approaches, MEmob+ helps retain existing users, promoting loyalty and repeat business. Through the data-driven solutions provided by MEmob+, marketers can unlock the full potential of their campaigns and drive remarkable success in their marketing endeavours.